Whinfell Forest news
Whinfell Forest important updates and latest news.
Our biggest ever lodge - 31st July 2018
Whinfell Forest is welcoming a 6-bedroom Woodland Lodge that sleeps up to 12. With six spacious bedrooms, family bathrooms and shower rooms and a large open-plan living space, it's perfect for large families or groups of friends. Now available to book for breaks arriving from May 2019.
External shows and events - 23rd July 2018
On Thursday 26th July to Sunday 29th July there's a local event taking place near Whinfell Forest at Lowther Estate. Noise levels are being closely monitored during this time, but you may be aware of some music playing in the distance during your break.
Aerial Adventure Enhancements - 23rd July 2018
We've added some exciting new obstacles to our Aerial Adventure course.
Are you brave enough to tackle the Tree House and Floating Staircase in this adrenalin packed challenge high up in the trees?
In the market for a makeover - 23rd July 2018
Our ParcMarket at Whinfell has reopened after having a makeover.
Don't forget to pop in and shop for all of your favourite brands and daily essentials.
New arrivals lodge - 18th July 2018
As we work to continually improve the services we offer, you'll notice we are working on bringing you a brand new Arrivals Lodge in spring 2019, to make the check in process even smoother. During this time, you will notice works taking place around our car park, so please bear with us whilst we complete this work.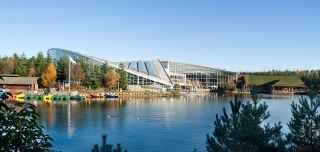 Forest safety - updated 13th July 2018
As you will be aware, we've had an extremely dry spell recently and following information from the Met Office, we would like to highlight some basic fire safety points:
Smoking is permitted only in designated smoking locations on village and on the patio/ balcony of accommodation
The use of wood from the forest is strictly prohibited for use on the fire in accommodation (please only use logs purchased from ParcMarket)
The making of fires of any sort is strictly prohibited
Should you discover a fire no matter how small, please contact the village emergency number or call 999
We do have regular fire checks in place but please be vigilant and help us to maintain a safe environment in the forest.
Fashion gifts and treats for less this summer - 22nd June 2018
Treat yourself, or someone else, and take advantage of the summer sale at Spirit and Sportique. Look out for up to 30% off fashion items across Joules, Radley, Superdry, Jack Jones and more.

Sale on between 29th June and 26th August 2018.
Accommodation number changes – why is it happening? - 14th May 2018
Whilst we work on creating some exciting new lodges on our village, you'll notice we've renumbered some of our existing accommodation.
If you are visiting Whinfell Forest from 18th May, you may notice your accommodation number is different to the one you received in your pre-arrival confirmation, but don't worry the accommodation you've booked will still be the same type – all that's changed is the number.
Our new accommodation, available from spring 2019, includes new 3-bed Executive Lodges with hot tubs and a 6-bed Woodland Lodge, with all the features you love in our popular Woodland Lodges, but with six spacious bedrooms.
A refresher for Refresh - Updated 5th April 2018
Refresh, located in the Sports Plaza, has been given a makeover with some exciting new elements.  Refresh will now be a place to relax and enjoy a coffee as well as somewhere to still grab those sweet treats.
Don't forget to drop by for a quick refreshment, snacks and essential grocery items.
Pre-book a Huck's Family Dining Experience - 5th February 2018
Huck's American Bar and Grill now offer a pre-bookable Huck's Family Dining Experience menu, exclusive to Whinfell Forest.
Start off with a sharing platter including BBQ wings, nachos and dips, and jalapeno and sweetcorn fritters before moving onto a selection of Huck's favourite main meals. For the little ones the children's buffet is open and can be polished off with a bottomless soft drink and for adults a pint of Coors Light, a small glass of house wine or soft drink.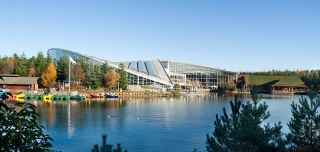 Minimising traffic on the village - Updated 28th March 2017
We know that our focus on providing a safe environment with minimal traffic is something you really value. That's why we need your help to reduce the traffic on our villages to protect what you love about Center Parcs: a place where little ones can run free and explore, and parents can feel at ease.
Football Pool at Whinfell Forest - 26th Sept 2017
Football Pool is coming to Whinfell Forest on October 1st - step onto the 12ft pitch and challenge your family to a game of spots against stripes. Swap the cue for your feet and aim to pot the footballs into the pockets, be the first to pot them all. Head over to the Sports Plaza to kick off your game.
Sign in to your Center Parcs account or Register today and add activities to your existing booking*. Alternatively, book your accommodation now to start your next Center Parcs adventure.

STA Swim Pups - Updated 7th August 2017
Unique to Center Parcs, STA Swim Pups is a new water activity designed for little ones aged 3 months to 4 years. The activity involves a structured swimming programme for mini swimmers to gain essential swimming and movement skills in a fun and exciting environment, through a series of enjoyable and stimulating games. Your little ones can cycle around the pool on a float, canoe on a pool raft and take part in an aquatic nature trail. As recognition of their achievement, they will be awarded with an STA certificate to take home.

Available at Whinfell Forest and Sherwood Forest. Coming soon to Elveden Forest, Woburn Forest and Longleat Forest.
A new look for Rajinda Pradesh - 3rd August 2017
Rajinda Pradesh serves up authentic Indian cuisine with a contemporary twist. Now we're giving the restaurant at Whinfell Forest a makeover to match the food. We'll be bringing the interiors up to date with exotic colours, luxurious textiles and geometric tiles. 
In order to complete the work, Rajinda Pradesh will be closing on Monday 4th September for approximately four weeks. An exact date for the grand re-opening will be communicated closer to the time.
Sign in to your Center Parcs account or Register today and add reservations to your existing booking*. Alternatively, book your accommodation now to start your next Center Parcs adventure.

Mermaids and Sharks at Center Parcs - 28th July 2017
Water lovers can become a magical mermaid or stealthy shark in our new swimming activity that's out of this world!
Wearing a special swimming tail 6-12 year olds learn how to kick, twist and glide their way around the shallows of our Subtropical Swimming Paradise, diving for treasure on the 'ocean floor'.
Sign in to your Center Parcs account or Register today and add activities to your existing booking*. Alternatively, book your accommodation now to start your next Center Parcs adventure.

Getting in touch during your break - 12th May 2017
If you need to get in touch during your break at Whinfell Forest, from booking an activity to seeking urgent medical care, there are a few ways to reach us.

In case of an emergency, call 01768 893003 from your mobile. There are also red telephone boxes located throughout the village.

Our Guest Services team are also on-hand to help every day from 8am to 10pm – visit them in the Village Centre or call 01768 893008. If you'd like to book an activity or a table in one of our restaurants, you can log on to the free Friendly wifi and visit www.centerparcs.co.uk or download the Center Parcs Mobile App (which also features an itinerary planner and map of the village).

We hope you have a lovely break at Whinfell Forest.
We're serving up a new menu at Sports Café - 27th January 2017
It's the hub of the Village and is open every day 9:00am-11:00pm, serving food all day to satisfy your appetite for delicious dishes and live sports.

Over the past few months we've been working hard to create an exciting new menu. From brilliant breakfasts to mouth-watering mains, as well as a range of delicious drinks including craft beers and artisanal teas, we're sure there's something you'll love. We've also introduced gluten-free, lactose-free, dairy-free, and vegan and vegetarian menus so the whole family can enjoy the Sports Café experience.

Available from Friday 27th January at all our Villages, head over to Sports Café and try out our exciting new menu.
Guests driving to Whinfell Forest - Updated 7th January 2016
We've been made aware that Google is displaying an incorrect postcode for Whinfell Forest, directing guests to a local kennel business and not Center Parcs.

We'd like to make clear to all guests travelling to Whinfell Forest that the correct postcode is CA10 2DW. To avoid confusion, please read the direction on our website.
*available when break booked is 26 weeks or fewer away.