Woburn Forest news
Woburn Forest important updates and latest news.
Pyrotechnics displays at Woburn Forest - 16th August 2018
Join us to enjoy a memorable evening for the whole family with our Pyrotechnic displays and why not head down to the Waterfront early to soak up the atmosphere before the event starts, please ensure you arrive by 6.15pm to enjoy the display.

Guy Fawkes displays are on Sunday 4th November and Wednesday 7th November. Winter Wonderland displays are running on Sundays and Wednesdays from 11th November to 20th December. Further displays will be held on Saturday 22nd, Wednesday 26th and Saturday 29th December.

Our final display of the year will be to welcome in 2019, the New Year display will be held at midnight on Monday 31st December. 

It's a free display but in the event of severe weather conditions, it may be postponed or cancelled.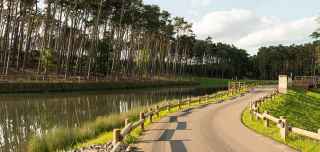 Forest safety - updated 13th August 2018
As you will be aware, we've had an extremely dry spell recently and following information from the Met Office, we would like to highlight some basic fire safety points:
Smoking is permitted only in designated smoking locations on village and on the patio/ balcony of accommodation
The use of wood from the forest is strictly prohibited for use on the fire in accommodation (please only use logs purchased from ParcMarket)
The making of fires of any sort is strictly prohibited
Should you discover a fire no matter how small, please contact the village emergency number or call 999
We do have regular fire checks in place but please be vigilant and help us to maintain a safe environment in the forest.
Segway Experience elements  - 6th August 2018
Segway Experience is the fun, unusual and a great way to get around the village. To start you off we will give you some expert guidance on our special Segway track, then move onto exploring around the village and finally you can put your new-found skills to action with the NEW off-road elements, hold on as you ride over the rumble strips and test your balance on the seesaw.
Football Pool coming to Woburn Forest - 26th July 2018
Challenge your family and friends at Woburn Forest to a game of Football Pool. Step onto the giant 12ft pitch and swap the cue for your feet and aim to score the footballs into the pockets. With four different ways to play, the competition is on. Head over to The Plaza to kick off your game.
Fashion gifts and treats for less this summer - 22nd June 2018
Treat yourself, or someone else, and take advantage of the summer sale at Spirit and Sportique. Look out for up to 30% off fashion items across Joules, Radley, Superdry, Jack Jones and more.

Sale on between 29th June and 26th August 2018.
Feeling good with Mediterranean inspired Leon - 19th June 2018
Dexter's Kitchen at Woburn Forest has closed its doors for the last time, before undergoing a dramatic transformation and reopening this July as the home of 'Naturally fast Food'; Leon.
Leon's menu is inspired by the flavours, variety and natural healthiness of Mediterranean cooking and will be open for lunch and dinner, seven days a week in the Village Square. 
Keep an eye here or on our social media channels as we'll update you with an opening date and menu as soon as possible.
Monty's brings Dogs and Cones to the Subtropical Swimming Paradise - 19th June 2018
Swim up an appetite and get those taste buds tingling with a new poolside dining experience soon to open at Woburn Forest. Monty's Dogs and Cones will serve up traditional and loaded hot dogs, pizza, nachos and that all important ice cream. Sweet treat fanatics will also want to make some room for Super Slurp Milkshakes – all customisable with your favourite topping.
We'll be sharing the menu and opening date as soon as possible.
The Drop now available to book at Woburn Forest - Updated 6th June 2018
Action Challenge at Woburn Forest is now even more thrilling, with the addition of our most adrenaline-fuelled activity ever: The Drop.
This tower hosts four heart-racing elements that will challenge even the biggest thrill seekers. Tackle the Double Drop Zip Wire, the Leap of Faith and the Quick Jump, as well as the ultimate Air Bag Jumps at increasing heights up to a knee-trembling 10m.
STA Swim Pups - Updated 6th June 2018
Unique to Center Parcs, STA Swim Pups is a new water activity designed for little ones aged 3 months to 4 years. The activity involves a structured swimming programme for mini swimmers to gain essential swimming and movement skills in a fun and exciting environment, through a series of enjoyable and stimulating games. Your little ones can cycle around the pool on a float, canoe on a pool raft and take part in an aquatic nature trail. As recognition of their achievement, they will be awarded with an STA certificate to take home.

Available at all villages.
Treehouses now available to book - Updated 10th April 2018
The new Treehouses at Woburn Forest are now available to book for breaks from July 2018. This spectacular new accommodation includes our first ever adapted Treehouse. Each Treehouse includes four en-suite bedrooms, detached games den, beautifully styled open-plan living and outdoor hot tub.
If you want to join us for a luxury break in your own Treehouse from July 2018 onwards, be sure to book early to avoid disappointment. 
Pre-book a Huck's Family Dining Experience - Updated 20th March 2018
Huck's American Bar and Grill offer a pre-bookable Huck's Family Dining Experience menu, available from the 27th April.
Start off with a sharing platter including BBQ wings, nachos and dips, and jalapeno and sweetcorn fritters before moving onto a selection of Huck's favourite main meals. For the little ones the children's buffet is open and can be polished off with a bottomless soft drink and for adults a pint of Coors Light, a small glass of house wine or soft drink.
Sign in to your Center Parcs account or Register today and add activities to your existing booking*. Alternatively, book your accommodation now to start your next Center Parcs adventure.
Laser Target has hit Woburn Forest - 21st February 2018
In this brand new activity test your aim and the steadiness of your hand with new Laser Target. Use our state-of-the-art laser-adapted guns to see if you can hit the bullseye. LED targets will light up in sequences - getting faster and faster! - to test your reaction times. They'll keep score electronically to see who's the best shot in your group.

A fresh new look for Starbucks - 15th February 2018
The Starbucks in the Subtropical Swimming Paradise is getting a new look that's as fresh as our daily roast. In order to work our magic, we need to close the coffee shop for a short while – from 4pm on Tuesday 20th March, reopening bright and early on Tuesday 10th April.
But don't worry if you're visiting us in that time – the Canopy Café and Bar will be open throughout, so you can still get hot and cold drinks and snacks between your swims and splashes.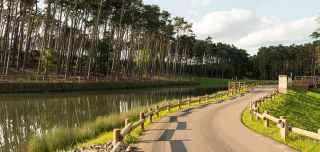 Minimising traffic on the village  - Updated 28th March 2017
We know that our focus on providing a safe environment with minimal traffic is something you really value. That's why we need your help to reduce the traffic on our villages to protect what you love about Center Parcs: a place where little ones can run free and explore, and parents can feel at ease.
Range of new lodges available to book - 1st August 2017
We're building a raft of new accommodation at Woburn Forest so that more families can enjoy quality time together. They're available to book now for breaks from September.

To stay in one of these brand new lodges, choose to select a location and pick any lodge between 900-956 when making your booking.

Whether your family's little or large, with 2- and 3-bedroom Executive Lodges and 4-bedroom Woodland Lodges available, we've got something that's just the right fit.
Mermaids and Sharks at Center Parcs - 28th July 2017
Water lovers can become a magical mermaid or stealthy shark in our new swimming activity that's out of this world! Wearing a special swimming tail 6-12 year olds learn how to kick, twist and glide their way around the shallows of our Subtropical Swimming Paradise, diving for treasure on the 'ocean floor'.
Sign in to your Center Parcs account or Register today and add activities to your existing booking*. Alternatively, book your accommodation now to start your next Center Parcs adventure.

New activity additions to the Village Square - 12th July 2017
If you're visiting Woburn Forest this summer be sure to make a pit stop at the Track, an exciting new activity destination within the Village Square. Little ones can try two new activities: glide around the course on two wheels in Woodland Wheelers, or slalom corners in our low-profile, pedal-powered Street Karts.
Bringing the fiesta to Woburn Forest - 1st June 2017
On 15th June, Shearing House at Woburn Forest will close its doors for the last time, before undergoing a dramatic transformation and reopening on 14th August as the home of Latin fiesta; Las Iguanas.

Las Iguanas will be open for lunch and dinner, serving up authentic Latin American food and drink seven days a week. From Mexican favourites to fiery Brazilian dishes and featuring a fun yet familiar children's menu, it's set to become the new place to be in the Plaza.

Keep an eye here or on our social media channels as we'll update you with an opening date as soon as possible.
Indoor Climbing Adventure opens at Woburn Forest - 5th July 2016
The veritable vertical playground that is Indoor Climbing Adventure is now open at Woburn Forest. With a variety of themes and challenges, you can scale the space wall or conquer the castle barricades.
Aqua Sana fresh new look revealed - 5th July 2016
We all need a little pampering from time to time, and our spas are no different. After opening in June 2014, Aqua Sana Woburn Forest has had a makeover, just in time for spring and summer. As well as a fresh lick of paint in the spa, we've completely revamped some of our relaxation spaces and a few of the 25 experience rooms.
*available when break booked is 26 weeks or fewer away.