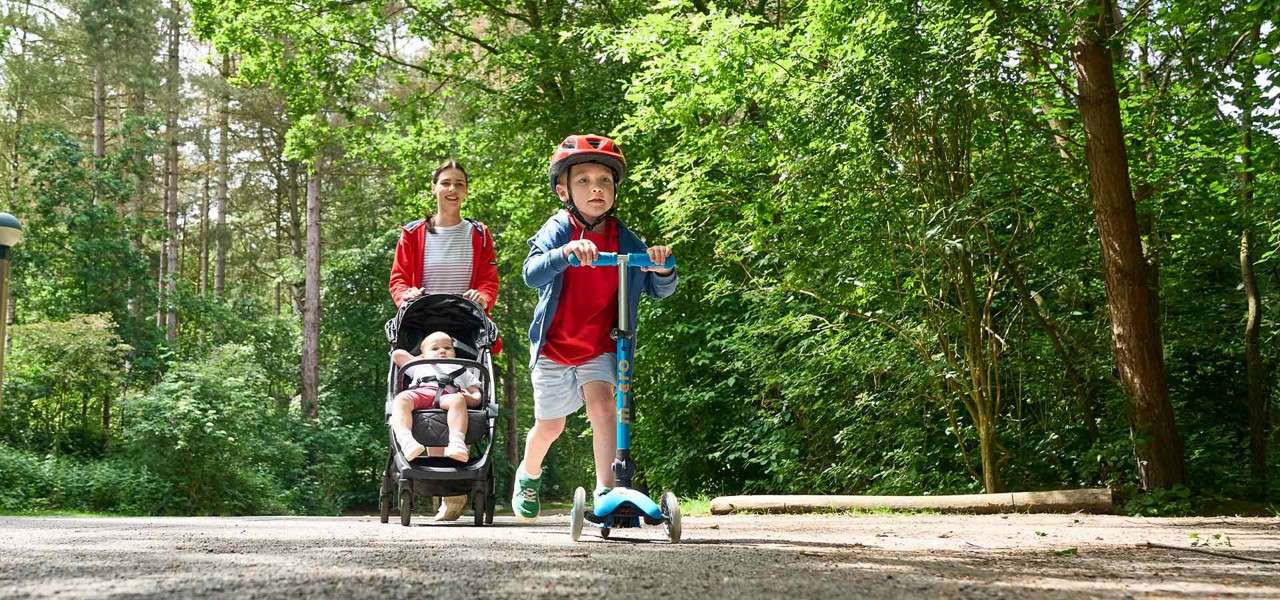 Book your short break
UK Villages (select up to 2)

Ireland Village

Break Duration (optional)

Choose your arrival date

You can book a Center Parcs break for a three-night weekend (Friday-Monday), four-night midweek (Monday-Friday) or seven-nights (starting Monday or Friday). Breaks over the festive period may vary from this pattern.

Step 2 - Select a duration

You can book a Center Parcs break for a three-night weekend (Friday-Monday), four-night midweek (Monday-Friday) or seven-nights (starting Monday or Friday). Breaks over the festive period may vary from this pattern.

Choose your departure date
Baby friendly holidays and breaks

Enjoy a stress-free family holiday with our baby-friendly UK breaks. Catering specifically for young families, Center Parcs has been designed to make your holiday with a baby as relaxing and easy as possible. With baby-friendly lodges, restaurants and activities, we've taken care of everything, so you don't have to worry about a thing.

Baby friendly lodges
Our lodges are all baby-friendly, specially designed and kitted out to minimise stress and ensure you have everything you need. Arrive to groceries at your front door after making use of our pre-arrival delivery service, pack your buggy away in one of our super-sized storage cupboards, and relax before the fun begins.
So, whether you're staying in one of our Treehouses or Woodland Lodges, you don't need to worry about anything other than spending some quality time with your family.

Eating out on holiday with a baby
We pride ourselves on the fact that all of our restaurants are child and baby-friendly. Offering plenty of space to accommodate multiple high-chairs and prams, as well as offering free baby food for your little ones or we can warm up your own food for you. If you need some added relaxation, order from one of the village restaurants to be delivered to your lodge and eat in peace whilst your little one sleeps.
Holiday activities with babies under one
Our holidays with babies under one offer plenty of fun and safe activities to keep your little one happy. Spend time in nature, take a swim, or try one of our classes.
Pre-book a timed slot and spend some time relaxing and enjoying the water at our Subtropical Swimming Paradise. With buggy park facilities, family changing rooms and a special baby water play area, it's the perfect place for them to experience their first dip in a pool.  
For something more creative, let their imaginations run wild as they decorate their very own pottery masterpiece with Fun Pots with Tots and get a fun memento to take home and treasure. 
Explore the forest and all its beauty 

If you're not in the mood for an activity, there's still plenty to do. Why not take a walk and explore our beautiful forests? With plenty of wildlife wandering around, feel the crunch of the leaves under your feet while enjoying all nature has to offer with your baby. Or else pre-book one of our cycles, complete with a baby buggy at the Cycle Center and discover the forest on two wheels (suitable for six months and older).
Take your baby for a swim
Spend some time relaxing and enjoying the water at our Subtropical Swimming Paradise by pre-booking a timed slot. With a buggy park outside the facilities, generous family changing rooms, and a special baby swimming area (with a warm shallow area perfect for young children), you won't need to stress about any of the practicalities.
Our crèche services
Spend some quality with your partner, or unwind in our Aqua Sana Spa, while our experts care for your little one. Come back to a happy baby complete with an activity card showing what they've done, eaten, as well as how many nappy changes and naps they've had. 
Try a baby-friendly activity 
There are a wide variety of baby-friendly activities on offer at Center Parcs.
Our top baby-friendly activities
{ "homePageURL":"/", "getAtcoreIframeUrl":"/content/centerparcs/uk/en/jcr:content.getatcore.json", "offerCodeUrl":"/content/centerparcs/uk/en/jcr:content.offerCode.json", "bookActivityUrl":"/content/centerparcs/uk/en/jcr:content.activitybook.json", "activityCheckAvailabilityServletUrl":"/content/centerparcs/uk/en/jcr:content.activityCheckAvailability.json", "accommodationSearchPageURL":"/breaks-we-offer/search.html", "activitySearchBookingPageURL":"/my-account/mybooking/upComingBooking/book-things-to-do.html", "activitySearchBrochurePageURL":"/discover-center-parcs/things-to-do.html", "locationPageURL":"/checkout/location.html", "enhancementPageURL":"/checkout/enhancements.html", "personalDetailsPageURL":"/my-account/my-profile.html", "yourDetailsPageURL":"/checkout/your-details.html", "guestDetailsPageURL":"/checkout/guest-details.html", "paymentPageURL":"/checkout/payment.html", "confirmationPageURL":"/checkout/booking-confirmation.html", "confirmationErrorPageURL":"/errors/booking-failure.html", "confirmationBackErrorPageURL":"", "raceConditionErrorURL":"/errors/400errorpage.html", "accommodationResetWarningLabel":"Are you sure?", "accommodationResetWarningMessage":"Continuing will clear your basket. Would you still like to continue?", "accommodationResetWarningOkButton":"OK", "accommodationResetWarningCancelButton":"Cancel", "signInPageURL":"/my-account/sign-in.html", "signUpPageURL":"", "newsletterSignInUrl":"/my-account/sign-in.html", "newsletterSignUpURL":"/my-account/sign-up.html", "myPreferencePageURL":"/my-account/my-profile.html", "payBalanceConfirmationPageURL":"/my-account/mybooking/upComingBooking/pay-outstanding-balance/pay-outstanding-confirmation.html", "bookingOverviewPageURL":"/my-account/mybooking/upComingBooking/booking-overview.html", "bookingSearchPageURL":"/search.html", "allBookingPageURL":"/my-account/mybooking/myAllBooking/view-all-centerparcs-bookings.html", "payOutstandingBalanceURL":"/my-account/mybooking/upComingBooking/pay-outstanding-balance.html", "bookingErrorPageURL":"/errors/booking-failure.html", "atcoreErrorPageURL":"Sorry,%20seems%20we%20are%20experiencing%20difficulties%20in%20processing%20your%20payment.%20Please%20try%20again.", "tsl": 1200, "chBookingDataRefreshTime": "0", "sessionExpireWarningLabel":"Session", "sessionExpireWarningMessage":"Your booking session has expired", "sessionExpireWarningOkButton":"Go to Home Page", "confirmActivityCanNotBeRemovedMessage":"This item cannot be removed as it is a confirmed booking", "bookActivitiesURL":"/my-account/mybooking/upComingBooking/book-things-to-do.html", "bookActivitiesURLSuffix": "/${villageCode}/${arrivalDate}/${departureDate}/activities", "currentSiteDateFormat": "true", "activitiesPaymentPageURL":"/my-account/mybooking/upComingBooking/book-things-to-do/activities-payment.html", "termsAndConditionsPageURL":"/information/terms-and-conditions.html", "activitiesBookingFailurePageURL":"/my-account/mybooking/upComingBooking/book-things-to-do/activity-full-failure.html", "activitiesPartialFailurePageURL":"/my-account/mybooking/upComingBooking/book-things-to-do/activity-partial-failure.html", "activitiesBookingConfirmationPageUrl":"/my-account/mybooking/upComingBooking/book-things-to-do/activities-confirmation.html", "activitiesCheckAvailabilityPageUrl":"/my-account/mybooking/upComingBooking/book-things-to-do/checkavailability.html", "pageNotFoundPageUrl":"/errors/404.html", "signOutPageURL":"/my-account/sign-in.html", "bookingReferenceAppendedURLs":["/my-account/mybooking/upComingBooking/itinerary.html","/my-account/mybooking/upComingBooking/pay-outstanding-balance/pay-outstanding-confirmation.html","/my-account/mybooking/upComingBooking/pay-outstanding-balance.html","/my-account/mybooking/upComingBooking/vehicle-details.html","/my-account/mybooking/upComingBooking/booking-overview/detailed-receipt.html","/my-account/mybooking/upComingBooking/booking-overview.html","/my-account/mybooking/upComingBooking/guest-details.html"], "associatedDomainLogoutUrls": ["https://www.centerparcs.co.uk/services/uxp/logout?resource\u003d/etc/designs/uxp-commons/images/ui-icon-logout-1x1.png","https://www.centerparcs.ie/services/uxp/logout?resource\u003d/etc/designs/uxp-commons/images/ui-icon-logout-1x1.png","https://www.aquasana.co.uk/services/uxp/logout?resource\u003d/etc/designs/uxp-commons/images/ui-icon-logout-1x1.png","https://www.aquasana.ie/services/uxp/logout?resource\u003d/etc/designs/uxp-commons/images/ui-icon-logout-1x1.png"], "domainFlag": "CPUK" }