Book your short break
UK Villages (select up to 2)

Ireland Village

Break Duration (optional)

Choose your arrival date

You can book a Center Parcs break for a three-night weekend (Friday-Monday), four-night midweek (Monday-Friday) or seven-nights (starting Monday or Friday). Breaks over the festive period may vary from this pattern.

Step 2 - Select a duration

You can book a Center Parcs break for a three-night weekend (Friday-Monday), four-night midweek (Monday-Friday) or seven-nights (starting Monday or Friday). Breaks over the festive period may vary from this pattern.

Choose your departure date
Toddler friendly holidays and breaks
Center Parcs is the perfect place for a toddler friendly holiday in the UK – with acres of woodland for little feet to explore, hundreds of new and exciting indoor and outdoor activities designed for toddlers, and a wide variety of child-friendly restaurants and menus. Find your home-away–from-home in one of our specially designed open-plan family lodges and make family memories that will last a lifetime.
Toddler friendly lodges
Our lodges are designed with families in mind, with plenty of space to accommodate busy little bodies - and the mountain of stuff they need! We know how stressful a family holiday with toddlers can be when hotels and other accommodation isn't child-friendly - this is why we try to make it as easy as possible. In all of our lodges you'll find high chairs, cots, stair gates (in two-storey lodges), and plenty of storage space.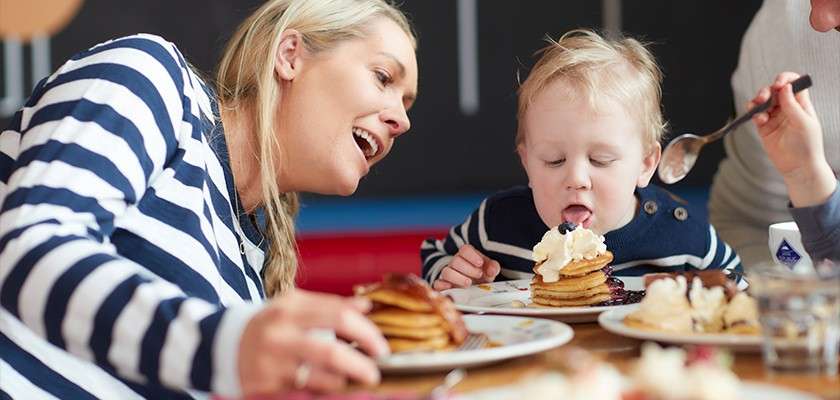 Eating on holiday with toddlers
We have a wide range of restaurants available at our villages, all of which are child-friendly, which include an offering of free baby food, special children's menus offering healthy and tasty dishes and disposable activity packs to keep your little ones entertained. With plenty of space for buggies and high chairs, you won't feel squashed or uncomfortable in our restaurants. If restaurants aren't your thing, you can still order restaurant-quality food, direct from the eateries on village delivered to your lodge door and eat in the comfort of your accommodation.
Fun holiday activities for toddlers  
Center Parcs is a toddler's dream with acres of stunning woodland, complete with a lake, beach and plenty of wildlife, a variety of fun indoor and outdoor activities, and our Subtropical Swimming Paradise (pre-bookable timed entry slots only).  All of our villages offer a variety of toddler-friendly activities to keep your little ones entertained and engaged.
Explore the great outdoors
There is plenty for toddlers to do outdoors at Center Parcs. Take a walk through the forest and explore all that nature has to offer. Keep an eye out for ducks, rabbits, deer, badgers, squirrels and more. Pre-book some cycles and take a ride through the forest and enjoy the fresh air - our Cycle Centre offers bike buggies to hire for parents with toddlers too young to ride. Or take a bucket and spade and build sandcastles on our very own beach.
Splash around in the Subtropical Swimming Paradise
Pre-book a timed slot at the Subtropical Swimming Paradise and spend a a couple of hours splashing in the pool. Heated to a lovely 29.5C year-round, it includes a special toddler pool perfect for little ones who aren't quite ready for the big pool.  At this balmy haven, you'll find a large buggy park outside for easy storage, spacious family-friendly changing areas, special baby and toddler-friendly areas, as well as towels and inflatables available for hire or purchase.
Our top activities for toddlers
Fun Pots with Tots (1 month to 5 years) - A fun and creative pottery session just for little ones where tiny footprints on a plate can transform into a tranquil owl in a tree.
Mini Trek (2 years+) – This aerial rope course is perfect for your little adventurers, as they balance and swing their way around the course, collecting puzzle pieces along the way.
Mini Captains' Adventure (3 years+) – Hop aboard and set sail on the lake to navigate the water and complete the puzzle set by your harbour master.
{ "homePageURL":"/", "getAtcoreIframeUrl":"/content/centerparcs/uk/en/jcr:content.getatcore.json", "offerCodeUrl":"/content/centerparcs/uk/en/jcr:content.offerCode.json", "bookActivityUrl":"/content/centerparcs/uk/en/jcr:content.activitybook.json", "activityCheckAvailabilityServletUrl":"/content/centerparcs/uk/en/jcr:content.activityCheckAvailability.json", "accommodationSearchPageURL":"/breaks-we-offer/search.html", "activitySearchBookingPageURL":"/my-account/mybooking/upComingBooking/book-things-to-do.html", "activitySearchBrochurePageURL":"/discover-center-parcs/things-to-do.html", "locationPageURL":"/checkout/location.html", "enhancementPageURL":"/checkout/enhancements.html", "personalDetailsPageURL":"/my-account/my-profile.html", "yourDetailsPageURL":"/checkout/your-details.html", "guestDetailsPageURL":"/checkout/guest-details.html", "paymentPageURL":"/checkout/payment.html", "confirmationPageURL":"/checkout/booking-confirmation.html", "confirmationErrorPageURL":"/errors/booking-failure.html", "confirmationBackErrorPageURL":"", "raceConditionErrorURL":"/errors/400errorpage.html", "accommodationResetWarningLabel":"Are you sure?", "accommodationResetWarningMessage":"Continuing will clear your basket. Would you still like to continue?", "accommodationResetWarningOkButton":"OK", "accommodationResetWarningCancelButton":"Cancel", "signInPageURL":"/my-account/sign-in.html", "signUpPageURL":"", "newsletterSignInUrl":"/my-account/sign-in.html", "newsletterSignUpURL":"/my-account/sign-up.html", "myPreferencePageURL":"/my-account/my-profile.html", "payBalanceConfirmationPageURL":"/my-account/mybooking/upComingBooking/pay-outstanding-balance/pay-outstanding-confirmation.html", "bookingOverviewPageURL":"/my-account/mybooking/upComingBooking/booking-overview.html", "bookingSearchPageURL":"/search.html", "allBookingPageURL":"/my-account/mybooking/myAllBooking/view-all-centerparcs-bookings.html", "payOutstandingBalanceURL":"/my-account/mybooking/upComingBooking/pay-outstanding-balance.html", "bookingErrorPageURL":"/errors/booking-failure.html", "atcoreErrorPageURL":"Sorry,%20seems%20we%20are%20experiencing%20difficulties%20in%20processing%20your%20payment.%20Please%20try%20again.", "tsl": 1200, "chBookingDataRefreshTime": "0", "sessionExpireWarningLabel":"Session", "sessionExpireWarningMessage":"Your booking session has expired", "sessionExpireWarningOkButton":"Go to Home Page", "confirmActivityCanNotBeRemovedMessage":"This item cannot be removed as it is a confirmed booking", "bookActivitiesURL":"/my-account/mybooking/upComingBooking/book-things-to-do.html", "bookActivitiesURLSuffix": "/${villageCode}/${arrivalDate}/${departureDate}/activities", "currentSiteDateFormat": "true", "activitiesPaymentPageURL":"/my-account/mybooking/upComingBooking/book-things-to-do/activities-payment.html", "termsAndConditionsPageURL":"/information/terms-and-conditions.html", "activitiesBookingFailurePageURL":"/my-account/mybooking/upComingBooking/book-things-to-do/activity-full-failure.html", "activitiesPartialFailurePageURL":"/my-account/mybooking/upComingBooking/book-things-to-do/activity-partial-failure.html", "activitiesBookingConfirmationPageUrl":"/my-account/mybooking/upComingBooking/book-things-to-do/activities-confirmation.html", "activitiesCheckAvailabilityPageUrl":"/my-account/mybooking/upComingBooking/book-things-to-do/checkavailability.html", "pageNotFoundPageUrl":"/errors/404.html", "signOutPageURL":"/my-account/sign-in.html", "bookingReferenceAppendedURLs":null, "associatedDomainLogoutUrls": ["https://www.centerparcs.co.uk/services/uxp/logout?resource\u003d/etc/designs/uxp-commons/images/ui-icon-logout-1x1.png","https://www.centerparcs.ie/services/uxp/logout?resource\u003d/etc/designs/uxp-commons/images/ui-icon-logout-1x1.png","https://www.aquasana.co.uk/services/uxp/logout?resource\u003d/etc/designs/uxp-commons/images/ui-icon-logout-1x1.png","https://www.aquasana.ie/services/uxp/logout?resource\u003d/etc/designs/uxp-commons/images/ui-icon-logout-1x1.png"], "domainFlag": "CPUK" }